Building influencer lists on a budget: the definitive guide
Posted on: 2013-09-24 in Resources | Tagged: influencer marketing pr measurement social media
---
As part of our guide to PR (and social media) measurement, metrics and evaluation, Heather Baker shows you how to create an influencer list on a budget.
It's fair to say that the entire PR profession is founded on influencer relations. Some might even say that the only reason PRs give a shit about journalists is because of the power they hold over their target audiences.
If your business wants to sell more, become more popular or reach more prospects, then you need to get influencers on board. It's a proven fact: there are heaps of scientific studies that show that third party endorsement (independent or not) has a major impact on your market's perception of your business and propensity to buy.
So we all know that influencer relations (the process of finding people who are kind of a big deal) is kind of a big deal. But what we often struggle with is finding those influencers. There are loads of high-end software solutions that claim to be able to build your influencer list for you (they can't, but many of them do add a lot of value to the process), and if money's no object, you should certainly consider the likes of Crimson Hexagon and Sentiment Metrics.
But if your client's purse strings are rather tight, you'll need to come build your influencer list manually, which is a bit of a mission, but worth the effort.
So here's my guide to finding influencers on a budget:
Step 1: Decide what you mean by influencer
How would you define an influencer? I would suggest it is someone who is relevant to your business or the product you're trying to sell, has sufficient klout (i.e. their influence needs to extend to a decent chunk of your market), is in the right location (i.e. uses the social networks that are used by your target market) and is accessible (i.e. you have a good chance of engaging them). They need to tick all four boxes to make your list.
For example, if I wanted to build a list of global influencers in the PR industry, I might find that over a million PR professionals follow Barack Obama (reach), and he knows a thing or two about PR (relevance) and is on Twitter, where many PR people can be found (location). But what are my chances of getting him to retweet my link to the top 50 PR blogs (accessibility)? Probably less than 20% (he can be a bit stingy with his retweets), which makes him a poor candidate for my influencer marketing programme.
Also, don't make the mistake of assuming that influencers need to be people. You need only look at the CIPR's following on Twitter to recognise that organisations can be influencers too. They might not have as much personality as the people behind them, but they do tend to attract large and, often very niche followings so are well worth targeting.
Once you've decided what makes an influencer, profile them in your spreadsheet. This should be a live list that is updated as you continue with your influencer marketing programme.
Step 2: Ask around
In our mad rush to do everything online, people often forget about the value of direct human interaction. Before you even start your digital search, call up a couple of your colleagues or friends who work in the industry and ask them who they believe is influential or the authority on the subject you are researching. Ask about:
Media outlets, such as magazines and newspapers.
Industry associations.
Major players / successful individuals in the industry.
Politicians with an interest in this subject.
Important dates and events in the calendar.
Relevant awards to follow.
Step 3: Head to Twitter
Followerwonk is a powerful tool (with a free version) by the digital masterminds at Moz that enables you to search Twitter profiles for keywords relevant to your industry. You can then filter by the number of followers or social authority. Add these to your long-list in your spreadsheet.
Sadly, Followerwonk is bou
nd to miss some of the influencers in your market. That's because not everyone puts the thing they are influential about in their Twitter bios. For example, I consider myself an authority on labradors. Every picture like this I tweet gets loads of favourites. But it's not in my profile, so I would be missed by someone using Followerwonk to find labrador Twitter influencers.
To make your search for Twitter influence complete, Twitonomy is a fantastic analytics tool that gives good insight into how a Twitter subject ebbs and flows over time. It also highlights the people who tweet about the subject the most and the people who are most influential. Add these to your list.
If you are keen to keep your list up to date, set up a search for hashtags that are used in your industry and follow them in real time (do this with ease on Tweetdeck or Hootsuite). Then add them to your list.
Step 4: Find the top websites on your subject
Another great way to find the people and organisations that drive your target market to act is by finding the most popular websites on a subject. Head to Alexa where the category search enables you to drill down to categories to identify the top websites on anything from business to adult entertainment! Browse through the top websites and add them, any contributors, or any commentators quoted on them to your long list.
Step 5: Find the most influential blogs on your subject
You shouldn't really focus on blogs specifically. Your influencer marketing programme should be targeted at all online media, which means journalists and bloggers both need to be added to the mix.
Inkybee lets you conduct up to 10 keyword searches through its database of blogs for $19 per month. It's much more comprehensive than Google's blog search. Don't forget to search through Google News and to browse your top publications in the sector as well – and create Google Alerts to enable you to keep up to date with new influencers as they emerge.
Step 6: Search for social mentions
Social Mention is a free tool offering real-time keyword search of the social web. You'll have to refine your keywords a bit to get to the important data, but it can be a useful tool to help you find influencers who might have slipped through the net. It covers Facebook pages, YouTube and a host of photo sharing and social bookmarking sites.
Step 7: Join the relevant LinkedIn groups
You can conduct keyword searches of LinkedIn groups to find the ones that are most relevant to you and your industry and LinkedIn will helpfully present the results according to the number of members. Once you're in, LinkedIn will also show you who's been particularly influential in that group recently – a massive help!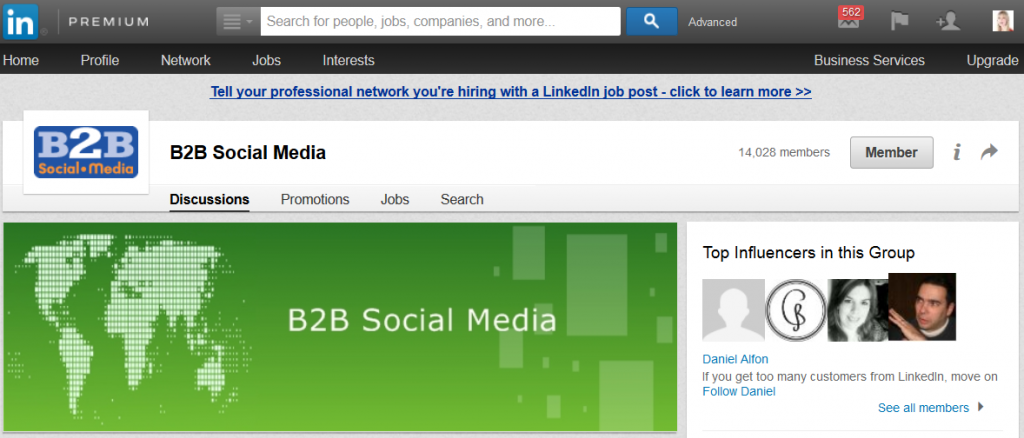 Step 8: Organise your data
Now you'll need to start organising your data to produce a workable list of influencers to target. It's a laborious process, but worth doing properly because your spreadsheet will become an incredibly useful marketing tool over time. This is the type of information you should record.
Influence (name)
Location – country / city
Twitter handle
Twitter followers
Blog
Website
Facebook page
Facebook fans
Google + page
LinkedIn profile
Engagement – with your organisation / brand (unknown, known, advocate, detractor)
Priority to you – P1, P2, P3
You can then sort your list to only focus on the P1 influencers and you're ready to start your influencer marketing programme.
---